Two young women met at university at the end of the 90's.Their common points: their funny haircuts, their yellow t-shirts and their non-stop chatter. Very quickly, they understood 1+1 = 3 and were convinced one or another day, they could build on their common skills in their professional lives.
Not long after meeting they were convinced that one day or another they could build on their common and complementary skills in their future professional lives.
Upon graduation, they both worked in the fashion world; one spotting and sourcing trending accessories, the other organising fashion events. These professional activities became their passions.
Fed up with sad colours, fed up with soulless chairs, uniform tables, uniform home decor looked like everyone and does not look like anyone…
In 2011, they decided to transition away from fashion catwalks and move into furniture catwalks creating their own Retro collection with one promise: "To make their furniture into a real fashion accessory."
How? Taking up the challenge to design chairs and desks with high heels and focus on sweet colours and cute prints. A collection of 50s inspired retro design furniture that's in step with the latest Fashion Week trends.
Les Gambettes introduces a collection of 50's inspired retro designed furniture with bright colors and eye-catching prints: chairs, tables, desk and design accessories mixing metal, wood and of course, the most popular surface from the 50's, Formica.
Designed in France and made in Europe by meticulous craftsmen, Les Gambettes introduces lively, comfortable and solid furniture in over 200 retail stores and in many restaurants and hotels throughout the world.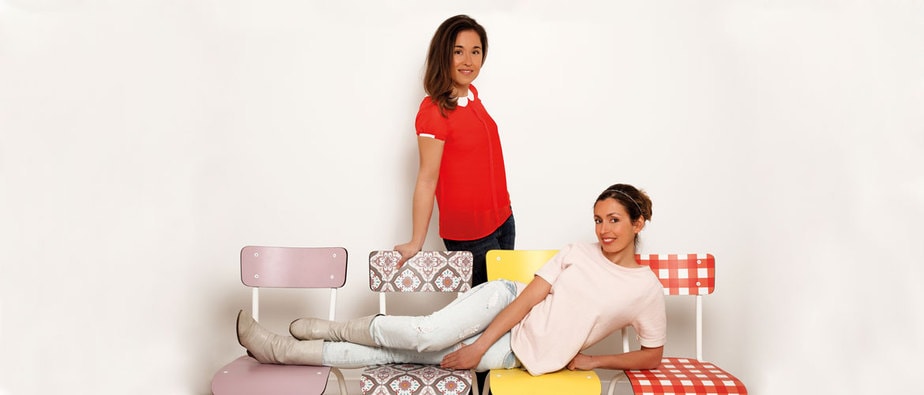 Empty tab. Edit page to add content here.
100% DESIGNED EN FRANCE – 100% MADE IN FRANCE AND EUROPE
From the making to the finishing, every single product is taken care by meticulous craftsmen who are concerned by the quality and the details. Our furniture are made in France and in Europe and meet to the FSC standards in order to prove to our customers wood is from sustainably managed forests.
100% RETRO DESIGN
Les Gambettes proposes a retro design furniture from the 50's-70's by introducing the mix of different materials: steel, wood and the famous one from the 50's: the Formica.